Join us for a virtual happy hour dating event online. Grab a drink or two and join other singles at home on a Saturday evening to bring some fun back in your life.
Slovve is collaborating with Ask Deep Questions for another fun event where you'll get to connect with other singles.
We will guide you – step by step – through some fun interactive games that help break the ice and reveal your playful, authentic self and then you'll have an opportunity to meet other participants in one-on-one, timed rounds, like mini "dates" (including meaningful conversations starters so you don't get stuck in small talk or "corona talk").
Instead of the awkward experience of a first date, we will guide each round to help you create conversations that foster depth of connection often requiring months (or years) to attain.
What to expect :
Curated group conversations
3x 20min-long curated "slow dating" video-chats with other singles
Games and prompts for your conversations
Professionally hosted and moderated event
Surprise musical entertainment
Bring your own drinks of choice
Dress to impress
Who is this for?
Single, straight men & women age 30-45 looking to meet other conscious singles for long term relationships with like-minded singles.
* If you don't fit into this group, please fill out this questionnaire, so we can learn more about your needs. We're planning to do a lot more of these with different criteria like location, age, sexual orientation, etc.
You should also share our community's main values: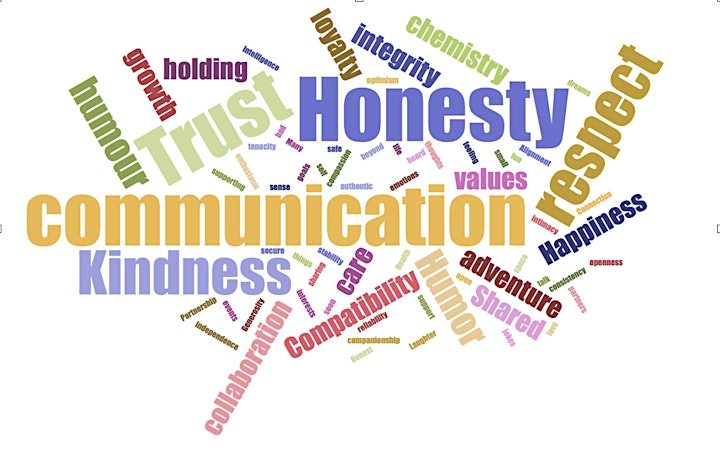 How does it work
We'll be using Zoom for our event. Download it here. It's free. You can use it with your desktop, laptop or mobile devices. We strongly recommend using a desktop or laptop for a best experience.
We'll be hosting and moderating the event. You'll get to interact with the group and also have private conversations with your dates.
Dress to impress!
If you've been looking for an excuse to dress up this is it! We'll leave it up to you. But this is a great opportunity to change things up a bit and get out of this quarantine funk. Plus it could be something to talk about.
Bring Your Own Drinks
Wine, beer, fizzy water, tea, juice, fancy cocktail. Whatever you like.
Expectation
We'll do our best to accommodate for an equal amount of males and females with the goal of matching you up with a different partner for each round (based on the survey you fill out at registration). But there is a chance that someone drops out last minute and we're left with uneven numbers, so one of the 3 rounds you might get to connect in a group of three.
What's next?
We're planning to do this on an ongoing basis and have more curated events. So if you're interested please grab your ticket and fill out a short questionnaire so we can curate the best experience for you.
Waitlist
If you don't see any more tickets available, please sign up for our waitlist. First of all, we wanna make sure that the event is balanced between men and women and then we'll be releasing more tickets.
Once a spot opens up, you will have a few hours to claim it before we release your ticket to the next person in line.
THIS EVENT IS A COLLABORATION BETWEEN SLOVVE AND ASK DEEP QUESTIONS
SLOVVE
Connecting conscious singles in Toronto
We're Cassie and MJ. We noticed that the world of "swipe left or right" to meet a potential partner is just not for everyone. Some people need opportunities to meet in a safe space and connect on a deeper level without any pressure. So we're creating a space to allow conscious singles to connect in a small intimate setting through guided conversations.
ASK DEEP QUESTIONS
Let's have a conversation that matters.
In a world where loneliness rates and social isolation are on the rise, there is more and more a need for tools and experiences that allow people to be themselves and facilitate deep conversations. Let's give each other the gift of presence, be more vulnerageous and connect meaningfully.